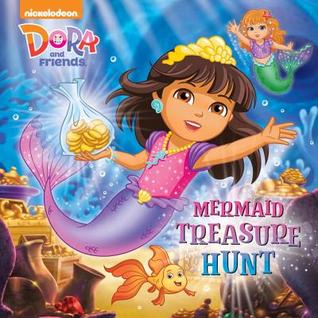 Book Type: Children's Book
Author: Mary Tillworth
Pages: 24
Summary(goodreads.com):
Dora and her friends team up with Mariana the mermaid to hunt for missing golden treasure! Based on Nickelodeon's hit show "Dora and Friends," this full-color storybook is perfect for girls ages 3 to 7.
My Review:
Dora has exciting adventures and now she's exploring the ocean as a mermaid! Although Dora was never one of my favorites as a mer-girl, it's cool to see her with a beautiful tail :) I loved the illustrations in this book. The merfolk are gorgeous, and their tails are bright and colorful, reminding me of tropical fish. The book begins with Dora and her friends cleaning up the beach while simultaneously doing a fun activity, showing the importance of teamwork, while also highlighting an important environmental issue. This book also teaches that being on a team is better than being greedy and alone. On a side note, it was a little weird that Dora now has a Map App instead of a traditional map!
This book was okay, not really the most exciting for older mer-readers. However, if you have a little one who loves Dora and mermaids, they will love this book!
I give this book (***) 3 stars.
-Sirenita The Selkie