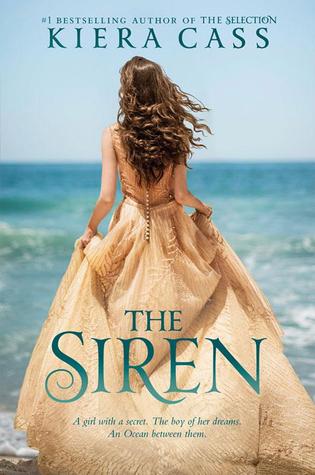 Book Type: YA Novel
Author: Kiera Cass
Pages: 327
Summary(goodreads.com):
Years ago, Kahlen was rescued from drowning by the Ocean. To repay her debt, she has served as a Siren ever since, using her voice to lure countless strangers to their deaths. Though a single word from Kahlen can kill, she can't resist spending her days on land, watching ordinary people and longing for the day when she will be able to speak and laugh and live freely among them again.
Kahlen is resigned to finishing her sentence in solitude…until she meets Akinli. Handsome, caring, and kind, Akinli is everything Kahlen ever dreamed of. And though she can't talk to him, they soon forge a connection neither of them can deny…and Kahlen doesn't want to.
Falling in love with a human breaks all the Ocean's rules, and if the Ocean discovers Kahlen's feelings, she'll be forced to leave Akinli for good. But for the first time in a lifetime of following the rules, Kahlen is determined to follow her heart.
My Review:
A lifelong curse, a cute blond boy, and a girl who only wants love... after a mer-friend told me about this book, I wanted to check it out! Sadly, this book did not meet my expectations.
What I Loved:
The beginning of this book is fantastic! The story starts right away and we see how Kahlen became a siren. I also loved the siren sisterhood. These girls stick together no matter what and help each other overcome horrible past memories. I also loved how Cass was creative with the ocean. The actual Ocean is a character in this book. Part Goddess, part mother, and part keeper of souls, the character fluctuates in moods in behaviors just like the sea.
What I Didn't Like:
By halfway through the book nothing was happening! I kept waiting for the story to progress but a majority of it was Kahlen complaining about her circumstances. While the other siren sisters did what they could to enjoy their lives, Kahlen chose to sleep all day and languish in her misery!
Kahlen doesn't have a life. The second half of the book was her complaining about her siren life or pining for Akinli.
The concept of love is shallow.
The first time Kahlen meets Akinli and then goes on ONE date, she believes she is in love with him all of a sudden. Perhaps she is infatuated, or maybe flattered with his looks, but love takes time to develop
and blossom and does not happen appear after one date.
This book was unfortunately very boring and depressing. I give this book (**) 2 stars.
-Sirenita The Selkie