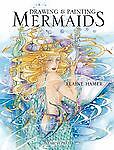 Book Type: How To Draw Mermaids/ Art Book
Author: Elaine Hamer
Pages: 112
Summary:
Appealing to mythologists, fantasy artists, and water colorists alike, this project guide includes clear step-by-step instructions for illustrating a variety of mermaids, from sirens of the sea beckoning sailors to their doom to mermaid beauties sunning themselves on a rock. Providing new artists with confidence-building tips and tricks for creating a well-composed piece, Elaine Hamer employs a style informed by the Art Nouveau period and emphasizes proportion, pose, and the
details
of a mermaid's form above all else. Suggestions for incorporating aspects from the natural world into the artwork are also included, helping artists to perfectly capture the ethereal beauty of these mythological beings.
My Review:
Although I did not read this book fully as I do other books, I believe it to be a very useful tool for artists like myself! What I really like about this book is that it walks you through the process of creating your own mermaid art and explains the tools, colors, and points of interest. Most of the art in this book is very light and colorful which is not something I personally prefer however, I do really love the way the tails and scales were colored and drawn out. Whether you love to draw and paint mermaids or if you are simply a collector of art books, I recommend checking out the lovely art work of Elaine Hamer. I give this book (***-****) 3-4 stars.
-
Sirenita The Selkie